It was March 4th, 2022. I already re-read all my comfort books over the last two years. In an effort to avoid becoming dull-witted, I'm going to only read new things for a year, between March 4th, 2022 and March 3th, 2023.
…one year passes. I update this blog post every time I finish a new book.
Today is March 3rd, 2023. This was a great experiment and I'll be doing it again for one more year -two years of comfort reading and two years of challenging reading. Books I tried to read (sometimes after multiple attempts) and gave up on. Ulysses. Just can't. Don't like it. Mrs Dalloway is a sufficient exposure to the modern novel and Proust was lovely. No need to read Ulysses for something unique.
It was worth it to finally force my way through Moby Dick; I renewed it in the library 3x. Finally to finish it I had to make sure there were no other books I had or could check out so that it was the only one available in Kindle and also had a ticking clock on it.
Fell off the new wagon; read three Pern novels 9/22-9/25. Interestingly enough coinciding with a very stressful personal situation where I didn't want to process new things.
Revelations:
Everyone should read all of Raymond Chandler.
Get your Roman history from Mary Beard.
It's hard to screw up by emulating the Horatio Hornblower series. See: Naomi Novik, David Weber, Lois McMaster Bujold, Bernard Cornwell
When Marcia Hofmann tells you to read something, do it.
Here's the list of all the books I read. [I'm too lazy to change the Amazon Affiliate link thing which is really easy to copy so if you don't want to use these links, you don't have to.]
March 3rd, 2023: Cicero: The Life and Times of Rome's Greatest Politician (Anthony Everitt) A page-turner for information purposes, but it's no Mary Beard. Just a dash of patriarchy over what should be a more modern take.
March 1st, 2023: White Noise (Don DeLillo) Interesting and a rollercoaster.
February 21st, 2023: Hercule Poirot's Christmas (Agatha Christie)
February 19th, 2023: Titus Groan (Mervyn Peake) Save a trip – it's lovely, but go read the Feast of the Innocents by Colin Harker instead – this book is gruesome without the humor.
February 16th, 2023: The Ballad of the White Horse (GK Chesterton) Outstandingly beautiful.
February 10th, 2023: Poems & other Essays (TS Eliot)
February 6th, 2023: Shenanigans (Mercedes Lackey)
January 31st, 2023: Flatland (Edwin Abbott) A bit of a slog to get through so I'm glad it was short.
January 29th, 2023: Death in the Clouds (Agatha Christie)
January 25th, 2023: Work Rules (Laszlo Bock) Jen Easterly recommended this book; excellent choice. Like all good management books, stuffed to the gills with stories that help walk a reader through similar management choices and ideal outcomes
January 17th, 2023: Desperate Undertakings (Lindsey Davis) I LOVE these procedurals written by a Roman historian. Excellent fodder, written by a lovely and learned author.
January 15th, 2023: SPQR (Mary Beard) My reaction: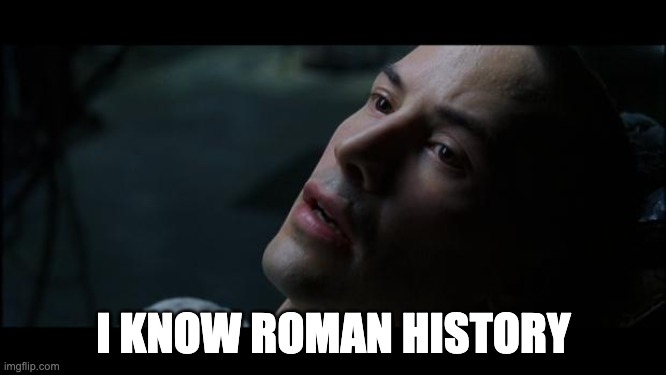 January 14th, 2023: Murder at the Vicarage (Agatha Christie) The first Miss Marple – it's cozy but also lovely and scary.
January 1st, 2023: It Can't Happen Here (Sinclair Lewis) Yes, yes it can.
December 30th, 2022: Pathways (Mercedes Lackey)
December 26th, 2022: No True Way (Mercedes Lackey)
December 23rd, 2022: Boundaries (Mercedes Lackey)
December 20th, 2022: Into The West (Mercedes Lackey) I binge, sometimes.
December 10th, 2022: Range: Why Generalists Triumph In A Specialized World (David Epstein) (holy cow what a great affirmation of the way I approach startups, poker, and life)
December 9th, 2022: The Pale Horse (Agatha Christie) (meh, not the best of all Christie novels)
December 2nd, 2022: Moby Dick (Herman Melville) Only the forcing function of this blog post could get me all the way through it (and that killer episode of The Mentalist)
November 28th, 2022: Black Cake (Charmaine Wilkerson) Mind-blowing, killer mystery, wonderful world building. Everyone should read this.
November 25th, 2022: Women & Power (Mary Beard) (as advertised; I'm a woman in startups so I already knew all this but now I have source citations)
November 25th, 2022: League of Dragons (Naomi Novik) (what a wonderful ending, though not as page-turning as the first five installments)
November 23rd, 2022: Blood of Tyrants (Naomi Novik)
November 15th, 2022: Crucible of Gold (Naomi Novik)
November 14th, 2022: Babel, Or the Necessity of Violence: An Arcane History of the Oxford Translators' Revolution (R. F. Kuang) Beautiful, sad, not a book to read if you're feeling sad.
October 27th, 2022: The Three-Body Problem (Liu Cixin) Now here's an incredible work of fiction that feels like futurism instead of a story.
October 23rd, 2022: Lord Edgware Dies (Agatha Christie)
October 23rd, 2022: On The Road (Jack Kerouac) Audiobook A better way to ride a bike.
October 22nd, 2022: Leaves of Grass (Walt Whitman) Audiobook A good way to ride a bike.
October 22nd, 2022: For Whom The Bell Tolls (Ernest Hemingway) Audiobook. Very Papa. Much Ernest. It's just…really, really Hemingway-esque, but the ending is genuinely moving.
October 19th, 2022: I Know Why The Caged Bird Sings (Maya Angelou) Oh my god; it was mindblowing. Lovely, terrifying, inexorable.
October 18th, 2022: Tongues of Serpents (Naomi Novik)
October 15th, 2022: The Four Day Win (Martha Beck) Less pretty than French Women Don't Get Fat but basically the same message.
October 9th, 2022: The Applied Critical Thinking Handbook (formerly the Red Team Handbook) (US Department of Defense) Excellent work; systemic, a good layout of military strategy.
October 9th, 2022: North And South (Elizabeth Gaskell) YAS in every way; you're going to see Richard Armitage in the lead role for this no matter what you do, and it's ok.
October 8th, 2022: Dark Lord of Derkholm (Diana Wynne Jones) This was…pardon me…darker than I'd expected. I'm not sure I am glad I read it in that moment.
October 5th, 2022: When We Were Very Young (A. A. Milne) A beautiful and cozy work.
October 1st, 2022: Victory of Eagles (Naomi Novik)
September 28th, 2022: Empire of Ivory (Naomi Novik)
September 25th, 2022: Snow Crash (Neal Stephenson) I have Feelings about this one. :/
September 20th, 2022: The Vanished Seas (Catherine Asaro) This is an INCREDIBLE series and I love it. cyberpunk badass with great worldbuilding.
September 8th, 2022: A Psalm For The Wild-Built (Becky Chambers) fast read, good world, cozy scifi
September 8th, 2022: Absolutely True Diary of a Part Time Indian (Sherman Alexie) My 15-year old nephew was right – this is a wonderful YA novel.
September 7th, 2022: Undercity (Catherine Asaro) le WOW this is good. Major Bhaajan is an excellent heroine.
September 5th, 2022: Black Powder War (Naomi Novik)
September 1, 2022: Admiral Hornblower (CS Forester)
August 30th, 2022: Lord Hornblower (CS Forester)
August 28th, 2022: Commodore Hornblower (CS Forester)
August 27th, 2022: Measure What Matters (John Doerr) I strongly recall OKRs from this and used it as a text.
August 22nd, 2022: Flying Colours (CS Forester)
August 21st, 2022: Ship of the Line (CS Forester)
August 20th, 2022: Paradise Regained (John Milton) (Audible)
August 20th, 2022: Paradise Lost (John Milton) (Audible) Yeah, that quote you thought was from the Bible? It was from here.
August 18th, 2022: The Happy Return (CS Forester)
August 17th, 2022: Ransomware (Sherri Davidoff) Got to read this one early for blurbing as well and it is an absolutely righteous read – a complete page turner for anyone in infosec.
August 16th, 2022: Hornblower and the Atropos (CS Forester)
August 15th, 2022: Hornblower During the Crisis (CS Forester)
August 14th, 2022: Hornblower and the Hotspur (CS Forester)
August 11th, 2022: Lieutenant Hornblower (CS Forester)
August 9th, 2022: Mr. Midshipman Hornblower (CS Forester) Yeah, so Hornblower by way of…Hornblower. I blew through all these and loved them.
August 5th, 2022: Obviously Awesome (April Dunford) Pretty ok; I can't remember much about it 8 months later.
August 4th, 2022: Throne of Jade (Naomi Novik)
August 4th, 2022: Mrs. Dalloway (Virginia Woolf) And here it is – my reason to never have to read Ulysses. Woolf did the walkabout novel best and with the precise amount of fractured internalism while giving the incoherence a miss.
August 3rd, 2022: His Majesty's Dragon (Naomi Novik) Hornblower by way of dragons – I burned through all these as fast as possible. I loved Honor Harrington (Hornblower by way of spaceships) so I figured these would do the trick and I was quite right.
July 30, 2022: The Sins Of Our Fathers (James SA Corey)
July 29th, 2022: The Big Sleep (Raymond Chandler) Never going to not re-read Chandler for the rest of my life.
July 24th, 2022: Barchester Towers (Anthony Trollope)
July 15th, 2022: The Warden (Anthony Trollope) These are wonderful! Same Middlemarch energy in half the serving size.
July 10th, 2022: Black Coffee (Agatha Christie)
July 10th, 2022: The Murder of Roger Ackroyd (Agatha Christie) THE MASTERPIECE. The whole point is the reveal; if you're going to read this, do not look up anything about it, don't read reviews – just go read it immediately and trust me.
July 7th, 2022: The Gilded Wolves (Roshani Chokshi) Lovely YA, but I didn't choose to keep going with the series. It has notes of Tanith Lee but not quite the depth and universality.
July 2nd, 2022: Leviathan Falls (James SA Corey)
June 29th, 2022: Tiamat's Wrath (James SA Corey)
June 25th, 2022: Auberon (James SA Corey)
June 25th, 2022: Gods of Risk (James SA Corey)
June 24th, 2022: Persepolis Rising (James SA Corey)
June 24th, 2022: Strange Dogs (James SA Corey)
June 22nd, 2022: The Churn (James SA Corey)
June 22nd, 2022: Babylon's Ashes (James SA Corey)
June 20th, 2022: The Butcher of Anderson Station (James SA Corey)
June 20th, 2022: Nemesis Games (James SA Corey)
June 16th, 2022: Cibola Burn (James SA Corey) Yeah, you're about to see me burn through every single Expanse novel as fast as I can get them into my Kindle.
June 11th, 2022: Daring Greatly (Brene Brown) I liked.
June 10th, 2022: The Island of Doctor Moreau (HG Wells) Eh. HG is best when on themes of physics, not biology.
June 8th, 2022: Don Quixote (Miguel de Cervantes) This is far more heartbreaking than I realized it would be.
June 8th, 2022: Great Expectations (Charles Dickens) I can't remember if I ever actually read it before or just know the story so well, but I don't think I ever read the unabridged one; holy cow the Hamlet references are so many and so strong.
June 6th, 2022: Zero To One: Notes on Startups, or How to Build the Future (Peter Thiel & Blake Masters) I mean, he's not wrong.
June 3rd, 2022: The Snows of Kilimanjaro And Other Stories (Ernest Hemingway)
May 31st, 2022: The Secret History (Donna Tartt) Du Maurier by way of Dark Academia – another thanks to Marcia H on this one.
May 29th, 2022: Frankenstein: Annotated for Scientists, Engineers, and Creators of All Kinds-The MIT Press (Mary Shelley) (the easiest read for people who didn't like it the first time since the annotations are brilliant)
May 2nd, 2022: Enumerations: Data and Literary Study (Andrew Piper)
May 1st, 2022: A Hacker's Mind: How The Powerful Bend Society's Rules, And How To Bend Them Back (Bruce Schneier) I read this in drafts to comment and it's an incise description of how to see the world differently enough to be usefully annoying.
April 25th, 2022: The Portrait of a Lady (Henry James) (stultifying, brilliant, the future's dark mirror)
April 22, 2022: Through The Looking-Glass (Lewis Carroll) [it's been so long I can't remember if I read it or just thought I had]
April 16th, 2022: Shorefall (Robert Jackson Bennett) These novels are just lovely.
April 13th, 2022: The Feast Of The Innocents (Colin Harker) Do you like gothic mystery with a sly nod to the campy takes from film? And how!
April 13th, 2022: The Mystery On The Blue Train (Agatha Christie)
April 11th, 2022: Farewell, My Lovely (Raymond Chandler)
April 11th, 2022: Cyberinsurance Policy (Josephine Wolff) Yay! I got to read this in galleys to blurb it, and it was outstanding. Josephine writes about risk more skillfully than anyone I've encountered so far.
April 10th, 2022: No One Can Pronounce My Name (Rakesh Satyal) What a lovely and amazing novel; it's weird and familiar at the same time.
April 8th, 2022: The Maltese Falcon (Dashiell Hammett) Every. Word. Is. Perfect.
April 7th, 2022: Middlemarch (George Eliot) Get 60% of the way through this and all of a sudden, it's not slow, or quiet, or meditative, but a righteous blast of a drama with characters that should every one of them have a Netflix miniseries.
April 7th, 2022: Becoming (Michelle Obama) Beautiful, inspiring, glorious; I quote it in my head and I probably ask myself twice a week, WWMOD?
April 4th, 2022: The Crime at Black Dudley (Margery Allingham)
March 28th, 2022: The Big Four (Agatha Christie)
March 23rd, 2022: The Man Who Knew Too Much (GK Chesterton) A killer mystery.
March 21st, 2022: The Immortal Life Of Henrietta Lacks (Rebecca Skloot) Heartbreaking, lovely, not for reading by anyone who's not in a good place emotionally.
March 20th, 2022: The Simple Art Of Murder (Raymond Chandler) More, more, more!
March 17th, 2022: Rebecca (Daphne du Maurier) Oh DAMN this one was a screaming page-turner and anyone who hasn't read this, simply MUST.
March 16th, 2022: The Murder On The Links (Agatha Christie)
March 15th, 2022: Eat Pray Love (Elizabeth Gilbert) Not too bad. The manifesto of a woman who never gave herself permission to do what she wanted ever, and when faced with the ability to do so, took a while to get her feet under her.
March 13th, 2022: Jude The Obscure (Thomas Hardy) A righteous page-turner with such tear-jerking, especially for anyone familiar with Oxford.
March 13th, 2022: Wild (Cheryl Strayed) I loved the PCT parts, and eventually started more skimming the personal bits.
March 13th, 2022: Poirot Investigates (Agatha Christie) Another in the line.
March 11th, 2022: The Hero With A Thousand Faces (Joseph Campbell) A bit derivative but a useful collection – sort of like a literary review of classic stories to find meta-similarities.
March 10th, 2022: The Long Goodbye (Raymond Chandler) Holy WOW thank you to Marcia Hofmann for getting me into the classics of crime. This is a stunning book and the language is as beautiful as you may have been told.
March 8th, 2022: The Underworld Sewer (Josie Washburn) A fascinating read that was one of the first available autobiographical books from a sex worker, describing all the ways in which blame and consequences attached themselves to women as opposed to the men who bought sex from them.
March 7th, 2022: Gone Girl (Gillian Flynn) This suffered from the fact that it was the first in a genre, and I'd already read several in the succession from it. We all think Frankenstein is derivative now because it was the first and inspired so many takes.
March 6th, 2022: The Prince (Niccolo Machiavelli) [counts because I hadn't read the new translation]
March 6th, 2022: Slaughterhouse Five (Kurt Vonnegut) This one's stuck in my head.
March 5th, 2022: Death By Dumpling (Vivien Chien) Very cute.
March 4th, 2022: The Mysterious Affair at Styles (Agatha Christie) So worth it; I hadn't ever started from the beginning of the Poirot mysteries. I'd read The ABC Murders, etc, but this one is so fascinating for all the things we think we knew about Poirot but weren't actually true – or were missing from our collective understanding.